When the weather takes a turn for the worse and creates a constant downpour, is your property sufficiently protected against water damage? Even for properties that are not necessarily in constant danger of severe flooding, it still helps to have something to hand that can help to keep floodwater away if it does arrive – a flood barrier that can quickly and easily be put up, and taken down again.
Here at StormMeister, we are world-leading manufacturers of rapid assembly flood barriers, our products being shipped across the UK, Europe, Africa, the United States and many more locations around the world. All places with vastly different climates and weather conditions – underlining the versatile strength of our products. Our 'Rapid Assembly Flood Barriers' can be placed within the frame of a door, gate or any other entrance in a matter of minutes, protecting everything inside from being subjected to water damage.
Contact Us
The StormMeister™ Rapid Assembly Flood Barrier in action at our product testing centre.
StormMeister Rapid Assembly Flood Barriers.
Able to be assembled in less than two minutes (no matter if it's in the dark, in the pouring rain – or both), with no grub screws to place in, no spanner or wrenches needed – the StormMeister Rapid Assembly Flood Barrier is by far the easiest, simplest and quickest way to protect your property from rising floodwater. Furthermore, this 'assembly kit' fulfils our flood resistance requirement of ZERO LEAKAGE at 600mm of water under test conditions – with ongoing flood resistance being well beyond that height. 
 It isn't just homes and commercial properties that can make use of Rapid Assembly Flood Barriers; we regularly help Garage and Warehouse owners (amongst others) to protect their contents. Three such recent examples include:
The installation of Heavy Duty Flood Barriers to protect the premises of a haulage company.
The Lancashire Fire and Rescue service, vastly experienced in dealing with flooding and its effects themselves, chose our flood barriers to protect the contents of their new fire station in Lancaster.
The owner of a villa in southern Spain was looking for garage flood protection for their collection of motorcycles. The installation of our Rapid Assembly flood defence barriers helped to keep the frequent flash flooding in the Spanish Costas at bay.
Contact Us
Fully-Tested Flood Defence Barriers.
If you are buying flood protection products, it is important to ensure that they have been fully-tested and are able to do the job they say they can do. Here at StormMeister, we test all of our flood barriers on-site – not many companies will have the facilities to test every single item they sell and even if they do endeavour to test them, it will be done by a third party, which is likely to drive up the price of the finished product. We can safely say that with us, you will be buying a world-class flood protection system that is created in an open, innovative environment.
We self-certify our flood defence products to the British Standard PAS1188-1 2014 at our testing facility in Preston, Lancashire. We love to demonstrate how our products work to individuals, businesses and other private and public institutions – you can even visit our product testing centre to see for yourself.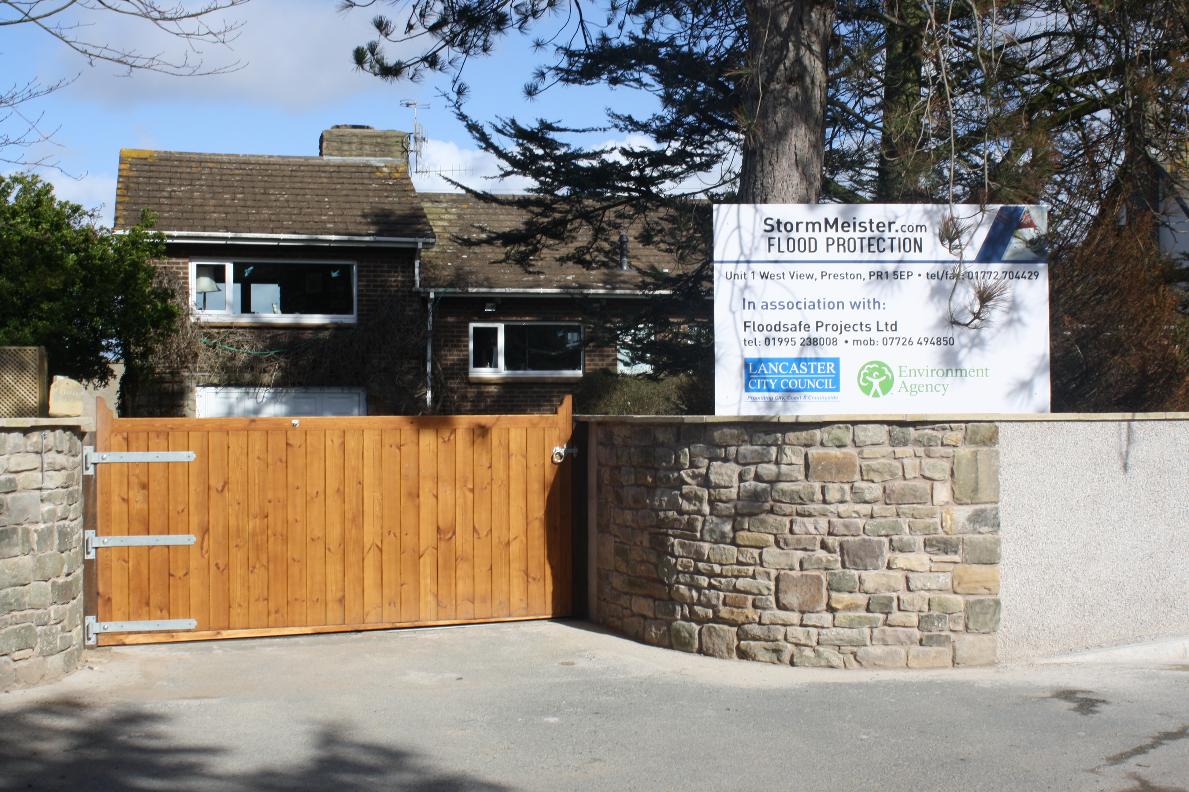 StormMeister Rapid Assembly Flood Barriers.
Assembled in less than two minutes without screws or nuts and bolts the StormMeister Rapid Assembly Flood Barrier is easy and simple to use yet fulfills the StormMeister Flood Barrier requirement of ZERO LEAKAGE at 600 mm of Water under test conditions.
Quality Assurance.
William M. Snape Manufacturing Services (UK) Limited (the Company) will at all times in the manufacture and supply of StormMeister Flood Doors and Flood Barriers adhere to their established Quality Assurance Systems and Procedures for product and/or service Conformance and Traceability and additionally to the Management Principles of ISO 9000:2000 as part of the Company's approach to consistent achievement in product development, customer service, and our Total Quality Management Philosophy.